Friends › Greg Pellone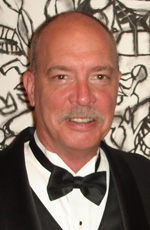 Greg is looking to explore all new opportunities and artistic possibilities that will help develop his skills as an artist and allow him to express his work through print media, painting, sculpture, and even puppetry in the most thoughtful and creative manner possible. The ideas for his art spring from his life and nature, and are done primarily for his own personal pleasure. In this fast paced, high-tech and sophisticated world, Greg tries to keep most of his work simple with warm, realistic and sometimes humorous views of life.

Greg has created art throughout his life, working in various media including oils, pastels, woodcut, etching, sculpture and puppetry. His extensive travels in Europe over a period of eight years gave him an opportunity to visit many of the major museums. Inspired by the works of the great masters in printing, he developed his own printing press from antique parts, and has experimented with various inks and papers to produce the best possible impressions from his etched plates.
More recently, Greg has been working on puppets as an art form. As an artist, puppeteering allows him to use the skills he already has, and to develop new ones to cope with fresh challenges. Painting, music, sculpting, lighting, design, and all the other disciplines needed to create a work of art are part of creating a puppet. He has been very fortunate as a newcomer to the field to meet or correspond with some of today's great puppet masters, authors and experts and to have visited some of the finest collections in the world.
View Greg's Art Not Hate marionettes and puppets »
Watch The Painter Meets the Puppeteer video »